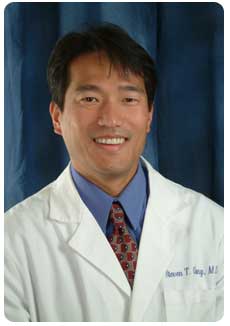 Dr. Steven Chang, M.D., F.A.C.S
ocsurg
I'm happy to have this chance to introduce myself and tell you about my practice. I have been practicing in South Orange county since 1998 and have been fortunate to work with my partner  Dr. Coccia throughout that time. We have a small surgical practice allowing us to give very personalized care to our surgical patients.
I was born in Taipei, Taiwan but  I grew up in New Jersey, along the "Jersey shore". I went to college in Baltimore at the Johns Hopkins University studying bio medical engineering. I went on to medical school in New York University School of Medicine. My general surgery residency was done in Philadelphia at the Thomas Jefferson University Hospitals. I began practicing in 1998 here in Laguna Beach drawn by the beautiful weather and community which I have grown to love.  This has been my home since then with my lovely wife and four beautiful children.
Dr Coccia and myself  have over 40+ combined years of surgical experience and provide general surgical services for the Laguna Beach community  and our local hospital-Mission Hospital Laguna Beach-24 seven.
I have four beautiful children and I spend most of my free time with them enjoying our favorite activities and hobbies : mountain biking, skiing, and just relaxing at the beach.
1989 B.S. - The Johns Hopkins University - Biomedical Engineering

1993 M.D. - New York University, School of Medicine
Internship
1993-94 Thomas Jefferson University

Medical Center , Philadelphia, PA
Residency
1994-98 Thomas Jefferson University

Medical Center , Philadelphia, PA
Licensure
Medical Societies
2003 Fellow of the American College of Surgeons

2004 Orange County Medical Association
Board certification
1999 American Board of Surgery
Other
2004 Director of the Minimally Invasive Institute at South Coast Medical Center (SCMC)

2004 Chairman of the Department of Surgery: SCMC

2004 Surgical Credentials Committee Member: Saddleback Memorial Medical Center (SMMC) and SCMC

2004 Surgical case review committee member: SMMC

2004 OR committee member: SMMC and SCMC
Research
Aug 1997 - The Effects of Negative Margins, Adjunctive Radiation & Comedo type Necrosis on the Treatment of Ductal Carcinoma in situ
 Steven T. Chang, MD, Francis E. Rosato, MD

 Department of Surgery

 Jefferson Medical college, Philadelphia, Pa
May 1997 Melanoma: Recurrence Rates After Lymphadenectomies
 Steven T. Chang, MD, John C. Kairys, MD

 Department of Surgery

 Jefferson Medical college, Philadelphia, Pa
Oct 1995 A Single Institutional Experience of Perioperative Radiation and Sphincter Preserving Surgery in the Management of Rectal Cancer
 Steven T. Chang, MD, Debra Nagel, MD, Rober Fry, MD

 Department of Colon and Rectal Surgery

 Jefferson Medical college, Philadelphia, Pa
Jul-Aug 1990 Role of Invariant Chain in MHC Type 11 Antigen Presentation
 Stephanie Diment, PhD

 Department of Biology

 NYU School of Medicine, NYC, NY
Jun-Aug 1987 Cloning and Isolation of Prekeryotic DNA Plasmids
 Rui-Chi Huang, PhD

 Department of Biology

 The Johns Hopkins University, Baltimore, MD